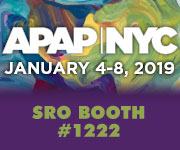 City: New York, New York
Dates: January 4 – 8, 2019
Exhibit Hall: Hilton New York & Towers
SRO Involvement:
EXHIBIT BOOTH… #1222 Americas Hall 1
SHOWCASES…

Independent showcases to be announced.

APPOINTMENTS… to schedule a meeting during the conference, contact attending SRO Agents, Jeff Laramie, Annemarie Martins, John Schimmelman, and Shawn Werner or call (608)664-8160 to schedule your time today.
INSIDE ARTS MAGAZINE… Preview the Fall conference issue's inside spread featuring SRO's 2019/20 Artist Roster.
PROFESSIONAL DEVELOPMENT SESSIONS… topics and participating SRO staff may be announced.